Scapegoat - with June Joplin
Hello and welcome to Episode 18 of This Little Light Of Mine.  My name is James Powell and I'm glad that you're able to join me for today's episode, 'Scapegoat'.
Over the past few weeks on IG and Facebook @MyLightShinesBright our trauma topic of conversation has been around the concept of 'The Scapegoat'.  This is a relatively new term for me, and it seems like it's a term that resonates with many that are on similar journeys of trauma recovery, addiction recovery, those deconstructing their religious beliefs, people experiencing homelessness and many in the BIPOC and LGBTQ2S+ communities.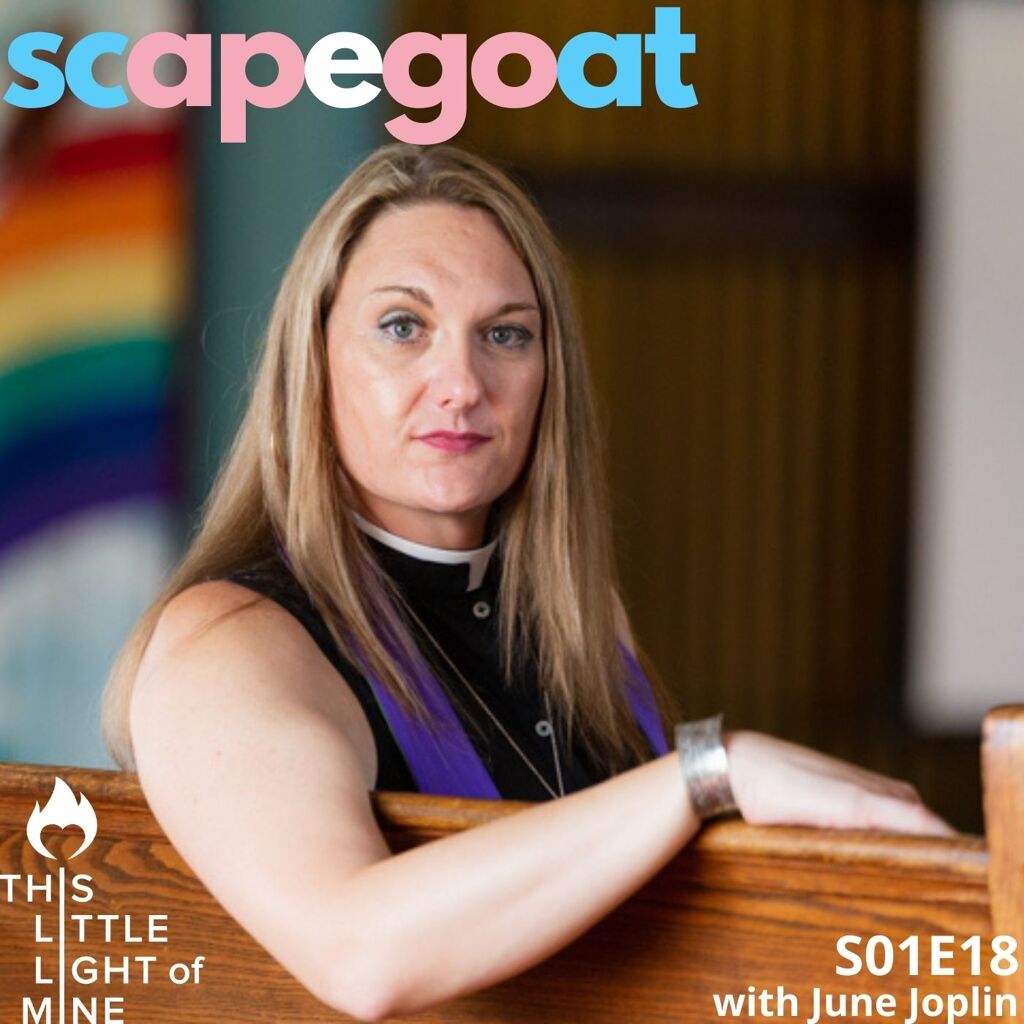 Before we jump into things, I want to give a quick trigger warning:
TW – today's episode may cause discomfort, feelings of anger and feelings of being threatened for cis-gender straight people, people comfortable with their privilege and to those who try to silence others through indifference and inaction.
Truth tellers
A scapegoat is a truth teller in a family, company or community.  They are the ones that will verbalize or act out "the problem" that others are attempting to cover up or deny.
Scapegoats are also called many other names… negative, shit disturber, trouble-maker, problem child, killer of dreams and get labelled with words like hostile, angry, crazy or defiant.
Insecure leaders are threatened by scapegoats
What I'm learning is that insecure leaders or people with insecure positions of power need to marginalize or try to sideline the scapegoat.  The truth-telling of the scapegoat brings issues to the surface, questions the status quo and calls for actual transparency and radical change in our world.
People in power have a vested interest in keeping things THE SAME.  They may claim that they're open to change but the reality is that those who need to hold onto power are threatened by change since it may impact their ego, positions, bank balance, church attendance numbers or social profiles.
On today's episode I'm in conversation with another radical truth-teller and scapegoat, Junia (June) Joplin
June Joplin
Junia "June" Joplin began serving in church ministry over twenty years ago, at nineteen years old. She has served congregations in the U.S. and Canada, most recently serving as a pastor in suburban Toronto. She holds degrees from Appalachian State University and the Baptist Theological Seminary at Richmond.
A long-time advocate for greater LGBTQ+ acceptance in faith communities, June made international headlines last summer when she came out as a trans woman and was subsequently fired by her congregation. June has been acclaimed as a stirring preacher and graceful leader. Her sermons and other content can be found on her website, pastorjune.com.
June is feisty, funny and incredibly vulnerable as she shares part of her story and message of hope and love for fellow truth-tellers.
Here's our conversation with June.
A massive shout out to June for sharing her truth with us today.  June is a living example of how important scapegoats are in our world.  In boldly sharing her truth, while facing a headwind of shame and attempted silencing, she is making a massive difference in the lives of so many as she gives permission for all of us to go inside and to listen to our bodies.
Like June, I've felt like the scapegoat for most of my life.  To be honest, instead of scapegoat, I've used the terms 'marginalized', 'othered' or 'unwanted'.  Being the scapegoat isn't easy.  Scapegoats have been shamed into silence, told that they don't belong, labelled as too sensitive, shunned, bullied and some, some scapegoats have lost their lives for telling their truth.
Cost of not speaking your truth
I've also learned that the cost of not being a scapegoat and not speaking my truth has also nearly cost me my life.  I can now see that much of my running, my hiding parts of myself, my anxiety, my addictions… these have been numbing agents that I've used so that I can ignore my body, ignore my Knowing and hold back my truth.
I'm now learning to reframe these labels for myself.  I'm not marginalized or othered.  I'm a truth-teller and that makes some people really uncomfortable. 
Prophets?
Growing up in church I learned about biblical prophets and I had this image of old (very old) white (very white) men (definitely men) with really long beards, who were widely revered and respected.  In my mind, these were the wise men that would hold and share their wisdom to a welcoming audience.
Rachel Held Evens in her book Inspired shares the following passage of who 'prophets' actually were.
"The prophets directed their most stinging critiques at the leaders of their own community. The violence and excess of the empire was a given, but when Israel itself indulged in greed and sexual exploitation, when it oppressed its workers and neglected the poor, the prophets got really angry.

Alongside these cries of anguish and anger, condemnation and critique, the prophets deliver what is perhaps the most subversive element of any resistance movement: hope. Employing language and imagery charged with theological meaning, the prophet asserted, despite all evidence to the contrary, that the God of Israel—the God of slaves and exiles and despised religious minorities—remains present and powerful, enthroned over all creation and above every empire."
I think THIS definition of a prophet sounds an awful lot like our definition of 'the scapegoat' and it sounds an awful lot like June.
What if?
What if, instead of the church kicking out, marginalizing and hating trans people, we loved them, listened to them and took in their message of love on our need to listen to our bodies?
What if, instead of labelled trans people as abominations, we saw them as loved and spiritually evolved humans?   What if, despite incredible shame and hate, they are listening to God's message for their bodies and for their life?
What would happen if we all did the same?  What if we listened to that still small voice inside of us?  What if each of us took off our masks?  Got rid of all the 'supposed tos' and stopped forcing our bodies and beings into situations where everything inside of us screams NO.
What if we all listened to the voice of God in our own lives, like June?
What about you?
So, what about you?  What are the 'supposed tos' in your life?  Are there areas in your life where you could be a radical truth-teller but instead you put your head in the sand and hope the discomfort simple disappears? 
Like June, I firmly believe we need more truth-tellers to come out of the closet.  Sit in the discomfort, have those conversations, vote for truth with your presence, your wallets and your voice.
Kids need your truth
There are children whose lives depend on you being a truth-teller.
Will you be a scapegoat with us?
Thank you so much for joining us today and I look forward to connecting with you in two-weeks' time for our next story episode where I share about the night that Mariah Carey saved my life… literally.
Thank you again for being with us today and before I go I want to remind you.
You are loved unconditionally by God who made you exactly as you are.
You, your heart, your mind, your body, your spirit, your gender expression, your sexuality and the way you love, are created perfectly in God's image.
You were created on purpose and your purpose is to fully love yourself, connect deeply with others and share your love with the rest of the world.