Silence is deadly: how to talk about suicide with David Laskovski
Hello and Welcome to This Little Light Of Mine, my name is James Powell and I'm really glad that you are able to join me for today's interview episode.
Today I'm joined with David Laskovski who is joining our conversation on mental health and will be helping us delve a little deeper into the topic of suicide. David developed the HELP model, that provides new tools and resources to professionals in Toronto's Emergency Medical Services to intervene and help those who may be suicidal.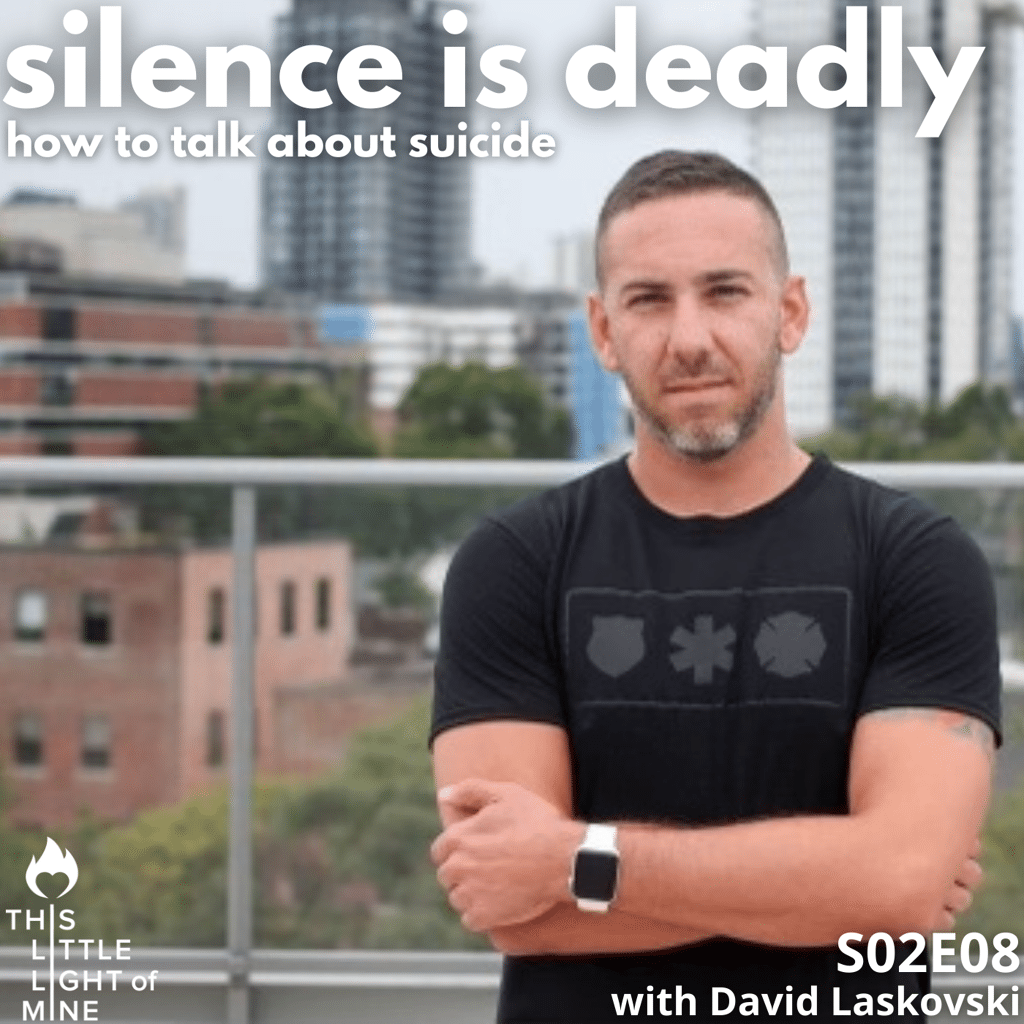 Before we jump into today's episode I want to provide two important caveats.
Trigger warning
The first is a trigger warning. Suicide is an important and uncomfortable topic that touches many of our lives (even if we may not be aware that it does). While this conversation may be uncomfortable I know that it is a conversation that we need to get more comfortable with. That being said, the timing of this conversation may not be for everyone, right now. Please proceed with caution and listen to your body on what you need to be safe in this moment.
David's my boyfriend
The second caveat that I want to share is that David is my boyfriend. David has helped me grow in a number of ways over the past couple of years and I wanted to invite him on to share some of his kindness, wisdom, and love so that it might help others too.
With David's expertise my hope and intention behind this episode is that we can all get a little more comfortable talking about this uncomfortable topic.
With that, let's jump into my conversation with David Laskovski.
So how are you after that conversation. What feelings, emotions, insights and questions came up for you?
Did you learn anything new that might help you open up and get a little more comfortable with this uncomfortable topic?
As David shared, the topic of suicide is shrouded with stigma. This stigma continues to grow, evolve, and strengthen when we allow our own uncomfortable feelings to go unchallenged and unchecked. We break this stigma, when we start to break our silence on this topic.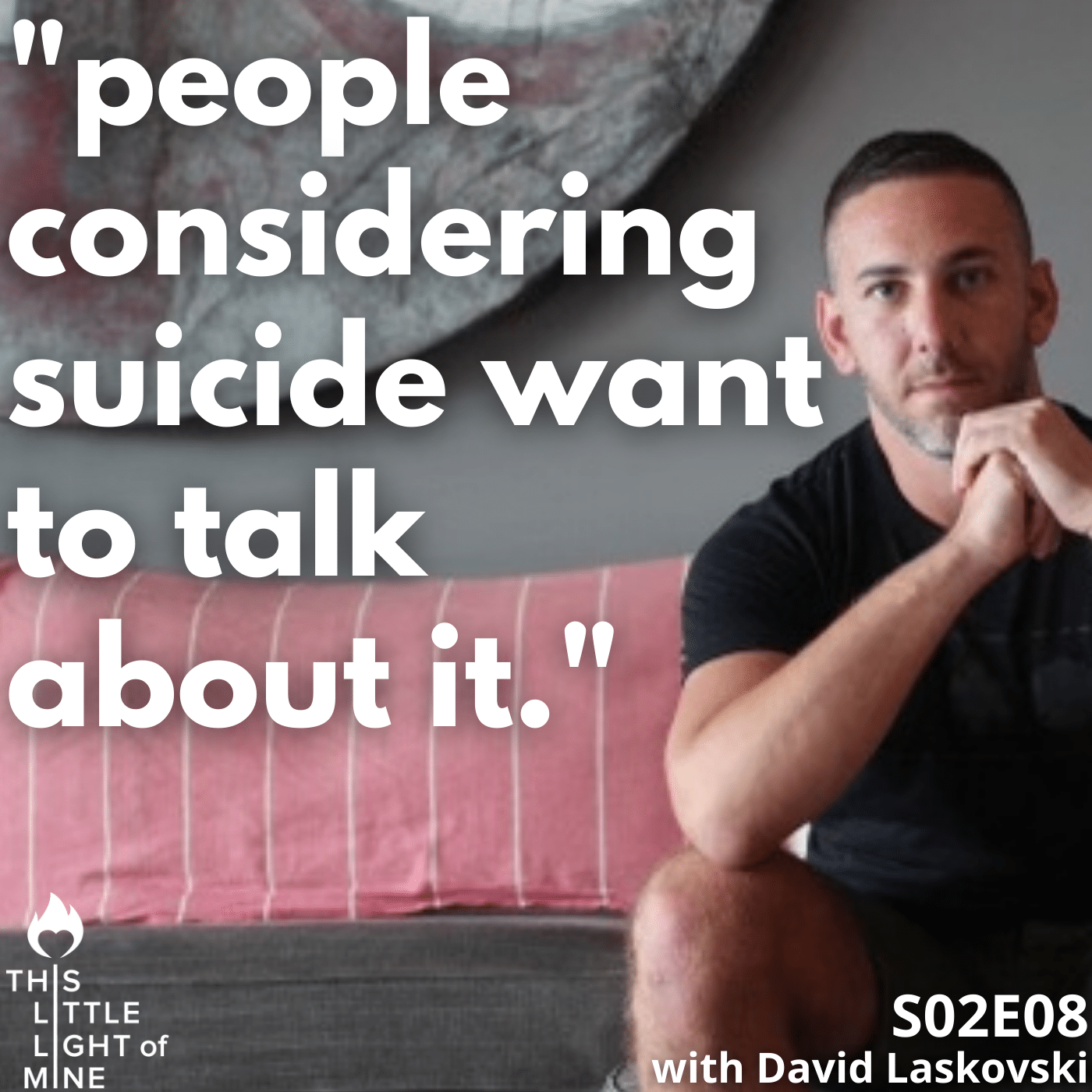 One of the biggest insights that I learned from David is that people who are considering suicide want to talk about it. They are desperately hinting and looking for an opening and permission to connect deeply, vulnerably, and authentically.
The other thing that really helped me as David walked through the HELP model was that helping someone that may be experiencing suicidal thoughts does not mean that I have to solve their problems. My role is to be there to Listen and to help Protect them from immediate harm.
How to talk about suicide
David has also shared some further resources around how to talk about suicide.  He's shared some points on  'what can you safely say', 'more things you can say', 'what to avoid saying', 'what you should listen for', and 'how to ask about possible life connections'.  All of the information is listed below and we've also put together a '
How to talk about suicide downloadable PDF resource
'. 
What can you safely say?
These items are 'safe' because it helps the individual in need to focus on their story, which they've likely never told anyone before.
Often, it's an opportunity for those in need to talk about what they've gone through which can sometimes help reduce stress.
Taking notes on a scrap piece of paper can be useful too.  If they mention names, hobbies, medical history, you can always jot them down.  Saying them back at a later point will help show that you are listening and paying attention.
"When did you begin feeling like this?"
"Did something happen that made you start feeling this way?"
"Tell me more about why you want to die?"
"How are you thinking of ending your life?"
"Do you have the means to do this?"
"Have you tried to suicide before?""
"Have you ever tried to end your life but then stopped yourself?"
"Have you been drinking or doing any drugs?"
"Are you connected to a doctor or a counsellor?"
"What have been the supports you've used in the past?"
More things you can say
Here are some reassuring statements you can say that offer support to those talking about suicide.
You can stay engaged by refocusing the conversation back to WHY they think suicide is the answer to their problems.
"It sounds like you're going through a lot right now…"
"Tell me, why do you think suicide is the answer?"
"Tell me more…"
"I'm listening…"
"I'm here with you…"
"You may not believe it now, but the way you're feeling can change…"
"When you want to give up, tell yourself you will hold off for just one more day, hour, minute- whatever you can manage…"
What to AVOID saying
"There's always someone worse off than you…"
"That's not so bad…"
"Try not to be so depressed…"
"But you have so much to live for…"
"Everyone gets depressed sometime…"
"Suicide is selfish…"
"I know just how you feel…"
"You'll be okay. Just hang in there. It'll pass…"
What you should listen for
It's best to see if an individual in need offers any of their own life connections, but if they don't you have the opportunity to ask them directly.
Life connections
Openings/Opportunities/Turning points
Glimmers of hope
Signs of doubt
How to ASK about possible life connections
If a person talking about suicide hasn't offered any life connections it's a good idea to try to go digging for them yourself.
The best way to do this is by keeping your questions OPEN ENDED.  This allows individuals to talk more and it opens up the conversation. \
"Tell me about a typical day in your life…"
"What are some things you enjoy doing?…"
"How do you feel when you're doing those things you enjoy?"
"Are there people in your life you can turn to when you're having a hard time?"
"How do you feel when you talk to these people?"
I want to thank David for taking us through the HELP model today and for helping us get a little more comfortable with this uncomfortable topic. I love you David.
As a reminder, if you, or someone you love are experiencing a mental health crisis and are considering suicide there are people who want to connect with you right now.
The 24/7/365 national suicide prevention line in Canada is available at 1.833.456.4566 in the United States this number is 1.800.273.8255
The Trevor Project in the US, estimates that at least one LGBTQ+ youth (between the ages of 13-24) attempts suicide every 45 seconds.
Transgender and nonbinary youth report more than four times greater rates of suicide attempts compared with their cisgender peers, including those who are LGBQ
Transgender and nonbinary (TGNB) youth who reported gender identity acceptance from at least one adult had 33% lower odds of reporting a past-year suicide attempt.
Acceptance from ONE single adult results in 33% lower odds of reporting a suicide attempt. This is where we all need to take immediate action.
It costs us nothing to accept and see all of God's creation as worthy and fully loved beings.
You are accepted and loved unconditionally by God who made you exactly as you are.⁠ ⁠ You, your heart, your mind, your body, your spirit, your gender expression, your sexuality and the way you love, are created perfectly in God's image.⁠ ⁠
You were created on purpose and your purpose is to fully love yourself, connect deeply with others and share your love with the rest of the world.⁠