Hello and welcome to This Little Light of Mine, my name is James Powell and I'm so glad that you were able to join me for today's story episode.
Years back one of my first coaching clients was a woman named Liz. Liz was a vivacious woman in her 40s, she was a successful and well paid advertising executive at a top agency, had loads of friends, a great space to live… you get the picture. She had everything she thought should make her happy… but she wasn't. She knew deep down inside that this fabulous life wasn't who she was designed to be. She knew that she needed to make some change. So she jumped.
At 40, single, she quit her job and decided to travel the world. Liz followed her knowing and it transformed her life.
The transformational power of travel
Liz discovered that travel can change the world. By jumping she learned that through travel we learn acceptance, gain humility, and experience childlike wonder. And these experiences can help us create a safe space to remember and discovery who we really are.
As I worked alongside Liz while she gave birth to her own adventure travel company she helped teach me the importance of transformational travel. Liz helped me understand that transformational travel is an outer discovery adventure AND an inner journey for the soul.
Fast forward nearly a decade I found myself in a similar situation to Liz. I had everything on the OUTSIDE that I thought should make me happy, but I wasn't. I was in desperate need of an inner transformation. I needed to find a space within myself where I felt safe enough and brave enough to jump.
Working with Liz opened my eyes to the potential for self-compassion, healing, and growth that transformation travel can provide when you set that intention and open yourself up for an inner journey while your travelling. My friend Rob from Out Adventures helped me to lock in that learning on a whole new level.
In today's story episode, I'm going to take you Peru where my friend Rob from Out Adventures helped me to experience my own outer discovery adventure and inner journey for the soul. It was this inner journey where I made one of my own life changing decisions to JUMP.
It's September 2019 and I'm travelling on one of Out Adventure's gay tours of Peru with my best friend, nine gay men from across North America, an amazing woman named Pam and our incredible Peruvian guide named Ale.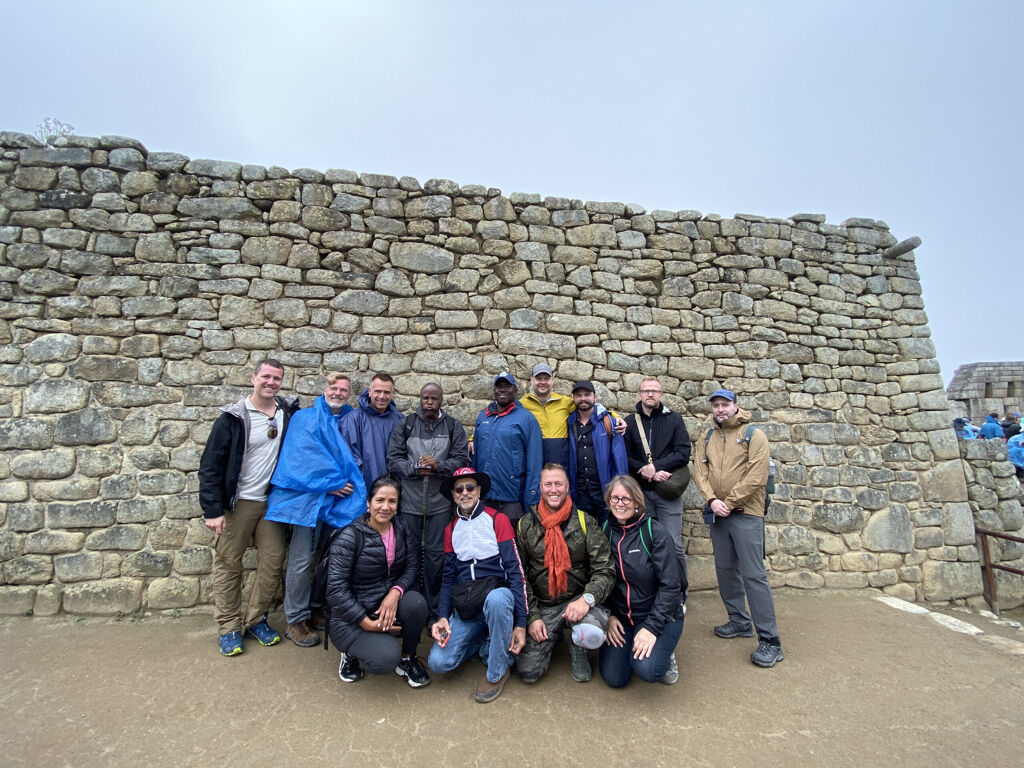 As we explore the end of the Inca Trail and take in the sites of Machu Picchu, I know I'm supposed be marvelling at the ancient ruins, the stunning landscape, and watching in awe as the atmosphere changes from minute to minute. 
This was supposed to be a trip of a lifetime, and I guess it was, but not for the reasons I thought it would be when we booked the trip months earlier.
Instead of loving and appreciating every moment, I'm angry, I'm scared, I'm torn up inside, and I feel like I'm trapped in between two very different realities.
Let me rewind a few weeks
I took the advice of my new sponsor and I reached out the therapist that he recommended.  He was booked solid for weeks but had one opening for one single session four hours before my flight to Peru took off.
After a stressful month of work that included travel, competing to win the best new fundraising concept for children's hospitals across North America, team breakdowns, emotional confessions from team members, tears, never-ending conference meetings, and a strange rash that covered 80% of my body, I could not wait to finally unplug, breathe, and relax.
My final, final, hurdle before Peru was my introductory session with a new trauma therapist.  I wheeled my two fully packed suitcases into his office and collapsed into his chair.
"I need help, real help.  And these 45-minute sessions aren't going to cut it."
I unloaded and unpacked my life in under 30 minutes and with a kindness and love that I have never experienced he responded.
"I understand.  I see you.  From what you have shared with me, you need some experienced trauma informed care.  I don't think the options we have here in Canada will provide you with the specialized attention and care that you need, but I have some thoughts and some personal connections that I think might help you."
As we said our goodbyes and I grabbed my suitcase he promised to send me a few options by the time my plane landed in Lima.
YYZ – LIM

I didn't sleep a minute on that overnight flight.  I was exhausted from battling to be seen and heard at work, confused and a bit disoriented from my first few months of sobriety, worried about my body rash, and excited for the adventure ahead in Peru.  As thoughts raced through my head, I kept circling back to what the therapist had shared and offered.
"Why did he focus on trauma informed care?  I'm not traumatized, I just need to stop my addictive behavior"
The other thought that kept racing through my head was
"What did he mean about the lack of specialized options in Canada?  And why did he mention having personal connections that could help me?"
What I wouldn't start to understand until months after this plane ride, the thoughts I was having on that plane and during most of the trip ahead were long standing trauma responses that told me not to trust others and shame induced trauma responses that told me that I couldn't trust myself either.
Trust & Trauma
As I reflect on this time of my life, and actually, most of my life, I can see how trauma and trust have been strange bedfellows.  Growing up in the church I was taught to submit to leadership, but this lesson has been weaponized by pastors, bosses, leaders, politicians, who have abused their positions as leaders by placing their own power, control, prestige, and profit before those whom they claim to lead.  There are a small few, but as I look back, I can't come up with many people in authority or leaders that I've had that I can fully respect or trust.  The belief that I've held onto for most of my life, when you place your trust in those in authority, you get hurt.  I get hurt.
As we got off that plane, arrived at the first stop of our adventure, and regained wifi connections, instead of spending time exploring my surroundings and getting to know the others on our trip, I was busy exploring the rehab options and making a mental list of pros & cons, questions, and to dos for the next stage of my life.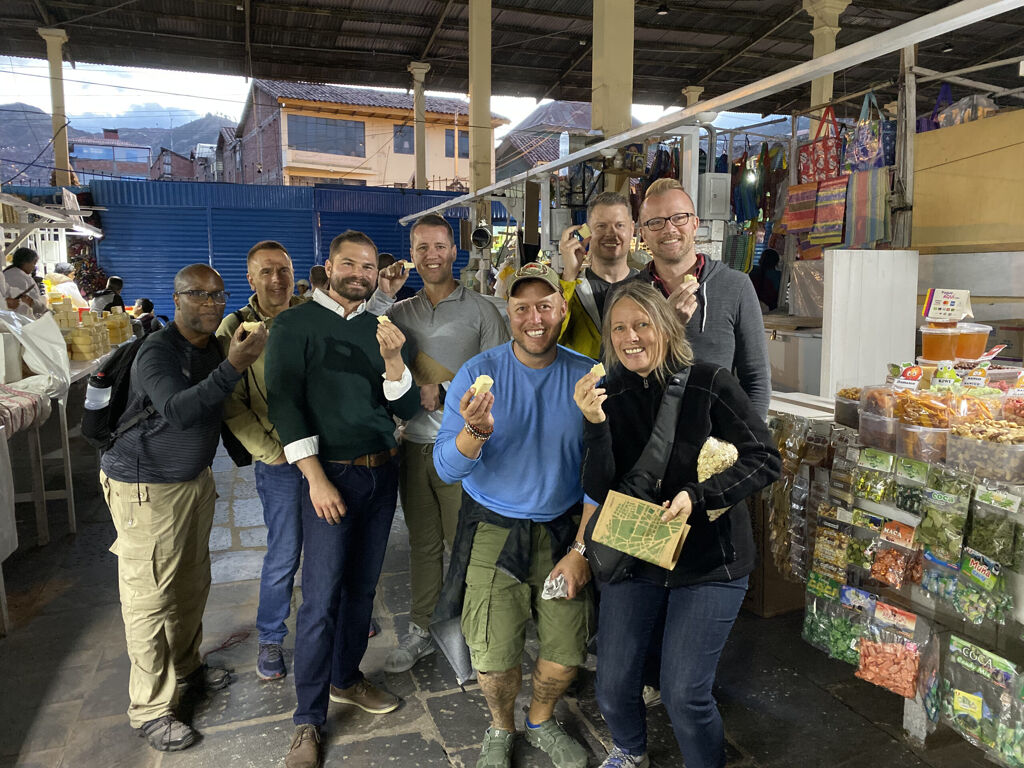 As the trip progressed, once again I felt like a stranger.  Without finding connection through using sex, alcohol, or drugs with a group of gay men, I didn't know who I was.  Instead of being on the trip it felt like I was watching a world that I knew I was no longer part of.  Without sex, alcohol, or drugs I could see how self-conscious, insecure, and afraid I really was and probably always had been.
As I walked through the motions of being on the trip and watched my own interactions and the interactions of the other gay men that I was surrounded with, I started to see how trained we were in our roles, and how trained I was in who I thought I had to be.
So many of us know how to be judgy, bitchy, drunk, fabulous, precious, materialistic, elitist, and overburdened.  But as I kept watching our interactions, without numbing myself, a faint new appreciation and understanding started to come over me.  The roles that so many of us play and the masks that so many of us wear, in an attempt to keep us safe, do anything but.  Instead of keeping us safe, they keep us separate and only serve as superficial shields to hide our deep-seated wounds from believing that we are not enough.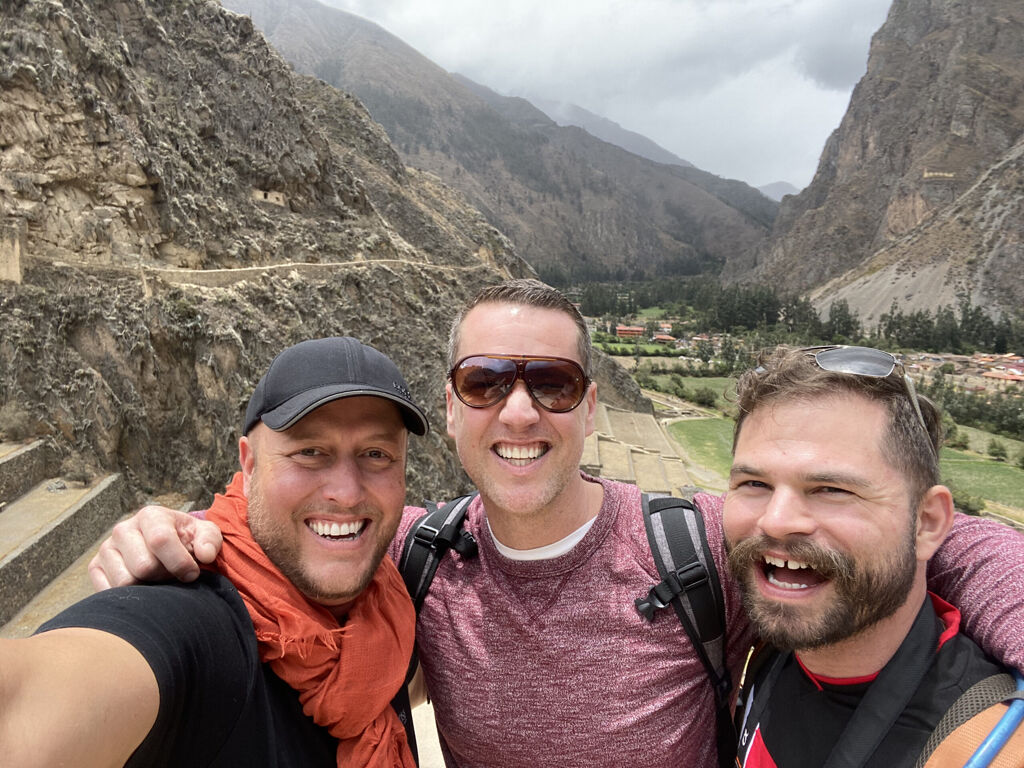 Even as I had these sober thoughts and observations, I continued to beat myself for not being like everyone else.  As I trekked across the Amazon jungle, paddled jungle rivers, and climbed high above the jungle canopy I was fighting an internal fight with myself.
"Why am I not enough?  Why can't I just have fun and fit in like everyone else.  Lord, why do I always want to be separate yet at the same time feel the need and the desire for more connection?  Is this my fear of opening up, sharing more of myself, and being seen by others?"
As we headed into the final leg of our adventure, I could feel resentment for my best friend growing by the minute.  I'm in a fearful space of growth & reflection and part of me wants him to be in that space with me.  How dare he be having fun while I go through all of this?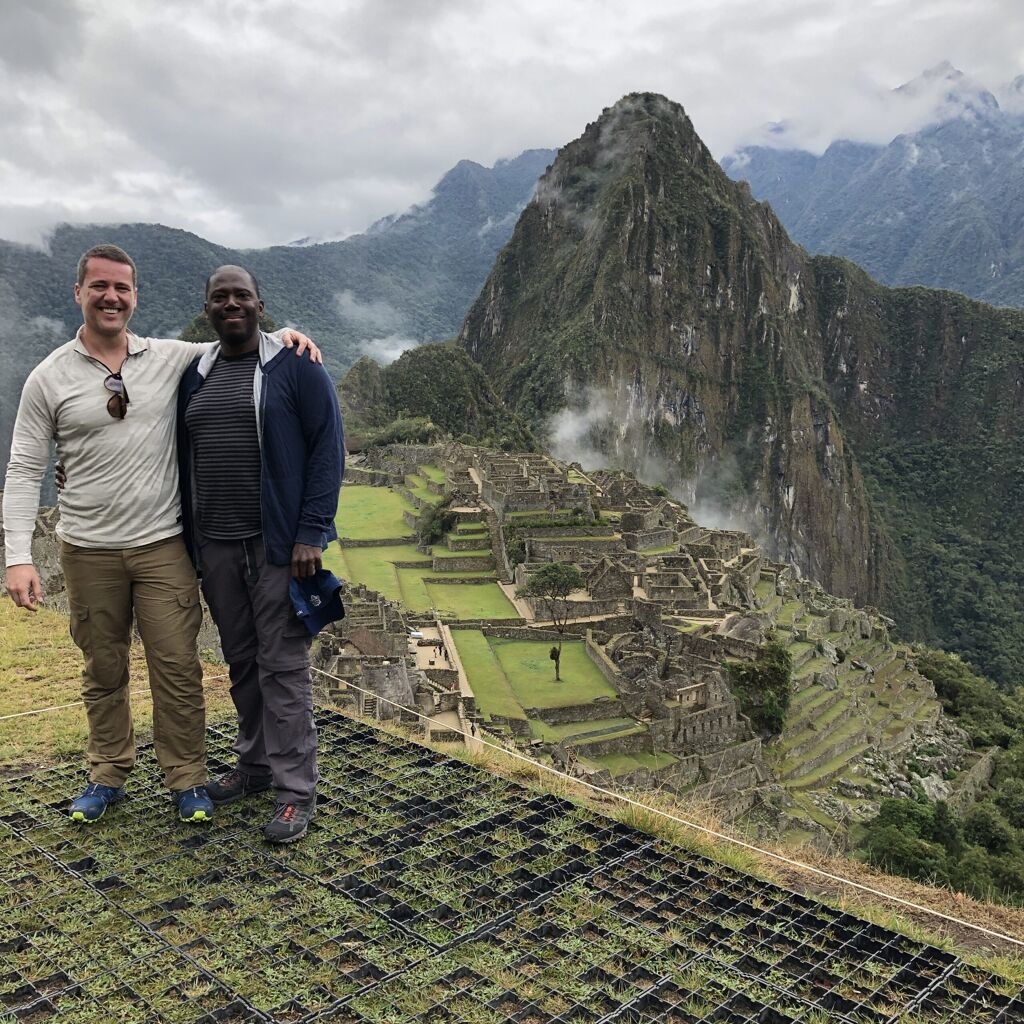 As I acknowledged this resentment and anger, another part of me opened up and asked to be heard.  This part of me is terrified of what lies ahead on the other side of this trip.  I was afraid of losing my best friend.  I was afraid that the deeper I got into recovery the more different we would become.  I was afraid that moving forward meant losing those I care deeply about.  Doesn't it always work out that way?
As our Out Adventure in Peru reaches its crescendo, we arrive at our day to tour the ancient ruins of Machu Picchu.  This space is incredible and is like nothing I have ever experienced, there is no question why Machu Picchu is considered one of the seven wonders of our world.  We were all in awe of the natural beauty and the mind-blowing architectural feats of the Inca Empire that were constructed so many years ago.
As we hiked up the mountain, I told the group that I was going to speed up ahead so that I could spend some time alone in this spectacular setting.  I needed this time to go within and have a conversation with the being I call God.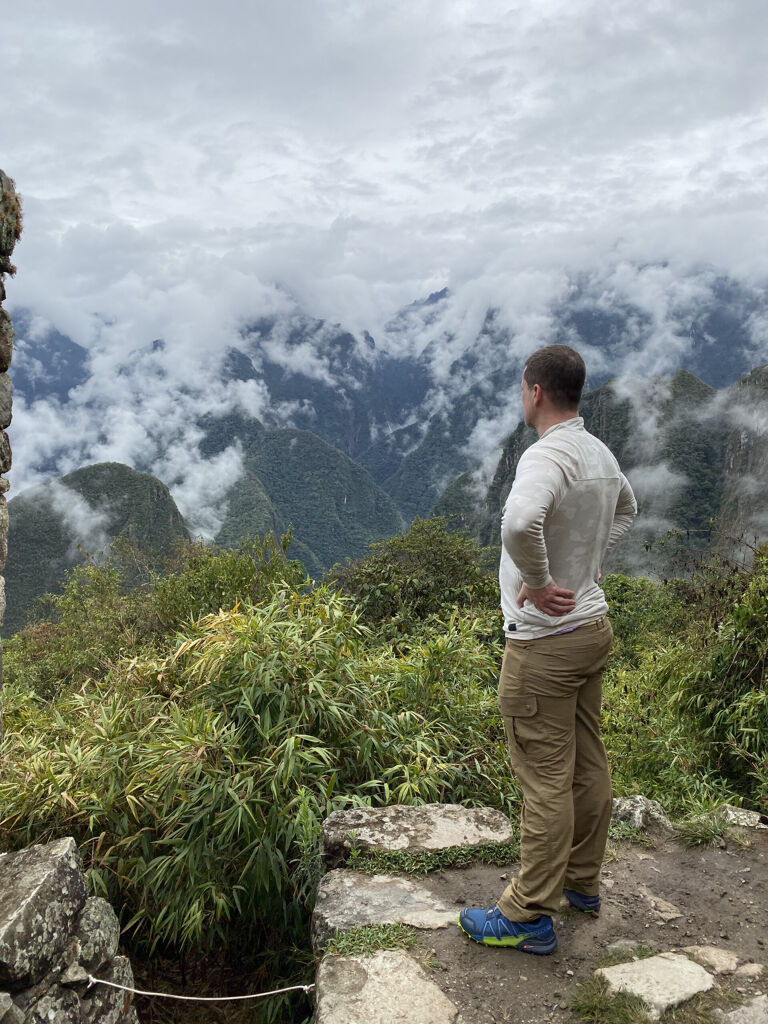 "Lord, thank you for bringing me to this time and space.  Here I am on this beautiful trip with my best friend and a group of other good people, yet I feel broken, alone, and disconnected.  I crave depth and authentic connection but feel cut off from giving and receiving that in my life.  I'm terrified of what lies ahead and how exposed I will need to be in order to heal myself. 
I'm so desperate to look good, keep up appearances, keep everything together, and control the world around me, and I'm just exhausted.  I feel like I'm going crazy, and that I have nothing left to give.  I'm terrified to share what's really been going on in my life with my parents and I have no idea how to even broach this topic at work.  Help me now."
I took some deep breaths and as I looked over the edge of the mountain and watched the clouds wisp by a strange settling came over me.
"Lord, my mind seems to be all over the place right now but as I breath in and look over this space, thank you for helping me to know that I only need to focus on right now is getting the best care for myself.  I am ready to heal, and I've waited my entire life to get to this point.  I'm finally at a place where I can put my care and my healing as my number one priority. Thank you for bringing me to this space.  Help me to stay here and to keep my trust in you.  Help me to face my own darkness so that I can fully love and heal myself."
I took several more deep breaths and as I looked out into the clouds, I knew that it was time.
I was in the midst of a spiritual crisis. Every part of my being knew that it was time for me to let go of the false identities, false concepts, and false beliefs that I had been holding on to for dear life.  I could see that it was my own clinging onto my past and to old beliefs that no longer served me, these were the things that were keeping me sick.  It was time to for me to jump.  But would a new net appear?
The only thing I knew for sure in that moment, was that this trip, and the decisions I made on it, would change my life forever.  It was time for me to jump.
Wow, when I think back to that point of my life I'm able to access many of the uncomfortable feelings that were going on inside of me. Those uncomfortable feelings were laying the foundation for incredible growth and the decisions that I made on that mountain were decisions that took my breath away and altered the trajectory of my life.
The gospel of travel
On that mountain I started the healing process of trusting myself by making decisions where I said YES to what I knew deep in my body and soul that I needed to do. On that trip I experienced some of the many benefits my coaching client Liz had in mind as she built her own transformational travel company to spread the 'gospel of travel'.
Liz now helps women, from around the world, find joy in their wellness journey, through travel.
Here are a handful of tips that Liz shares with her travel clients:
1 – Step Outside of Yourself. Instead of 'doing you', use travel as an invitation to BE fully you. The YOU without the masks.
2 – Talk to Strangers. Reach out and connect with other humans. Be with them, learn from them, experience life with them. We expand through new relationships and connections.
3 – Do Something that Scares You – Travel can be a time of extreme growth through experimentation where you challenge yourself to BE fully you.
4 – Have No Assumptions – Instead of making assumptions, get curious, and give yourself permission to ask questions
5 – View Problems as Opportunities – Life doesn't always go according to our exact plan. Consider being open to viewing what could be labeled as 'problems' to be viewed as opportunities to open introduce us to new ways of growing forward.
What if we lived these tips NOW? 
Who might you be if you started practicing these tips right now? Transformational travel is an incredible set and setting to embrace and experience the fullest expression of your being. And we each have the opportunity to choose to BE that person right now. It's not the travel that creates the opportunity. It's YOU who gives yourself the full permission to be alive while traveling. You can give yourself that full permission with every breath you take.
What is standing in the way of giving yourself full permission to be fully and authentically you right now? When you go inside and listen to your Knowing, are there areas in your life where you Know you need to make a decision that will take your breath away?
Brain/Body Connection
And remember that rash covering 80% of my body that I was concerned about while in Peru? What I would later learn, that was a stress related rash that simply disappeared after I made the decision to jump. Talk about the power of our brain body connection. My emotional chaos created a physical issue to get my attention.
Thank you for joining me today and I'm looking forward to connecting in two-weeks time where I will be joined with Bonnie Violet. Bonnie is a trans femme genderqueer spiritual drag artist, digital chaplain and host of 'A Queer Chaplin' and 'Splintered Grace' podcasts. 
Have you had the chance to check 'Pray Away', conversion therapy documentary on Netflix? Bonnie will be joining me to talk all about 'Pray Away'. We'll be talking about what we found, helpful, hurtful, and what we hope for, should a possible part two be in the works.
To learn more about transformational travel I encourage you to reach out to:
And before I go I want to remind you.
You are loved unconditionally by God who made you exactly as you are.⁠ ⁠ You, your heart, your mind, your body, your spirit, your gender expression, your sexuality and the way you love, are created perfectly in God's image.⁠ ⁠
You were created on purpose and your purpose is to fully love yourself, connect deeply with others and share your love with the rest of the world
You matter, you are needed, you are wanted, and you are loved.