Mom & Dad - part 2: with LGBTQ parents
Dave & Lorraine Powell
Hello and welcome to Episode 28 of This Little Light Of Mine.  My name is James Powell and I'm glad that you're able to join me for the second part of my interview with my parents.
If you haven't already listened to the first part of our conversation, I would encourage you to hop back one episode so that you have the chance to catch our full conversation.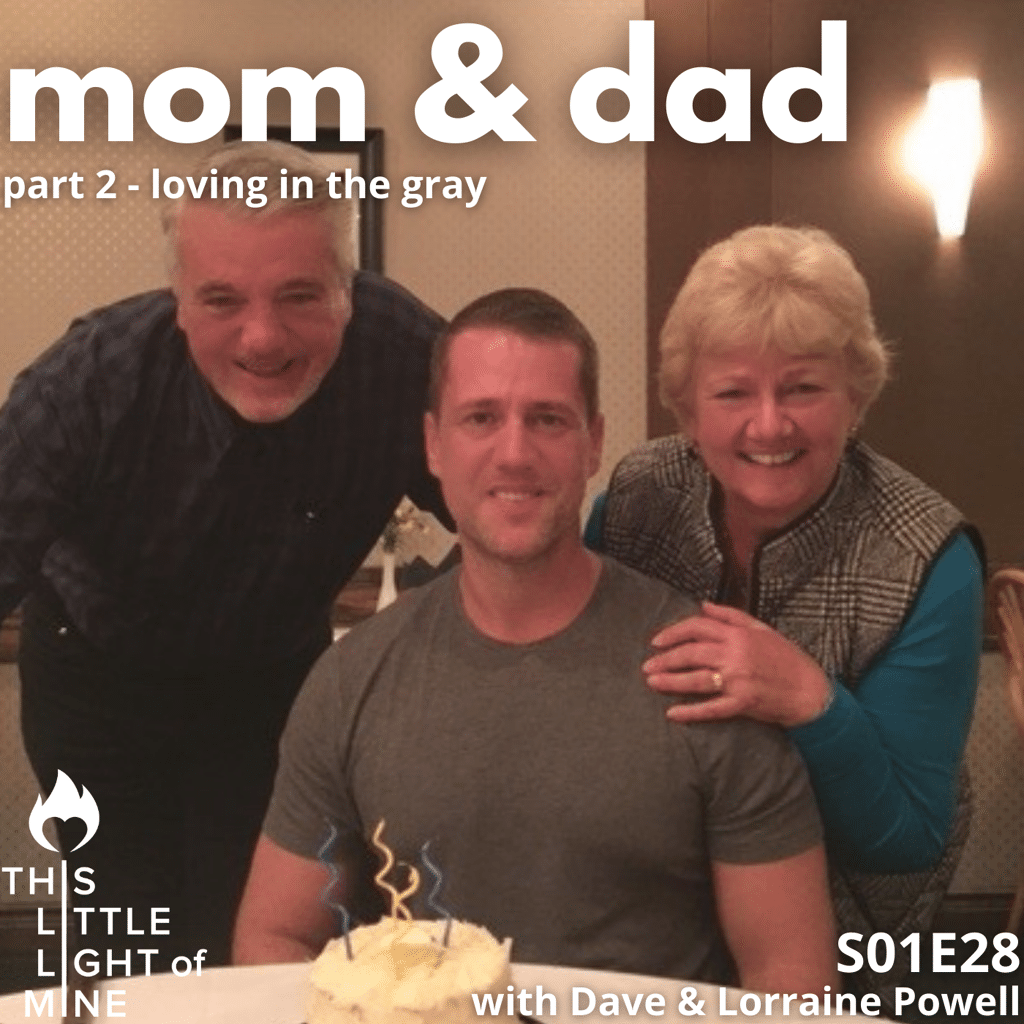 The response to EP27 and the first part of our chat has been overwhelming, affirming, and eye opening.  Thank you for sharing so much of your raw emotion, personal reflections, and insights with me.
Anger
Some of you were mad.  You felt that sitting down and inviting my parents to share was a betrayal to all the pain and suffering that LGBTQ2S+ children have had to live through.  I get that.
Sadness
Others were brought to tears and shared how they could only wish to have that kind of dialogue with their parents.  You shared how that from where you are now you can't see that ever being possible for your family.  I get that too.  And there have been many times where that has been my reality.
Shame
Some felt like I was forcing the notion of traditional family, and to you, that felting shaming.  I get that and understand these feelings too.  I've shared those feelings at times.
Love
There was lots of love and appreciation by others who have seen how healing family relationships can be with time.
Demonic
Some people claimed that I've had a demonic influence on my parents and their love and support for me only represents my parent's brokenness, naivety, and perversion.  I mean, if you want to label spiritual growth, accepting, and loving others as demonic… it's not my job to convince you or argue with you.  What I will say, I respectfully disagree.
Discomfort
But the most repeated feedback and response that I heard was in regard to the pain, regret, and discomfort that so many individuals have with their own family members.  Even though many of the specifics may have been different in our individual situations I was overwhelmed with how my parent's vulnerability and their ownership of 'what was' was helpful and healing for others to hear.  I get that and I couldn't agree more, this conversation was deeply healing for me too.
Families truly are some of the most complicated relationships that we have.  AND these relationships can be up, down, and all over the place.
Trust me, the relationships within our family are constantly in flux and we're all slowly learning that part of being human is to embrace this discomfort.
And with that, let's hop back into the conversation with my parents as we talk about what was helpful for them on their journey, discuss our privilege, talk about the politics of religion and much, much, more.  Kicking off part two of my conversation with my parents is my mom sharing what she feels has changed within families of today compared to when I was growing up in the 80's and 90's… and well ya… the 70's too.
Sitting down with my parents like this I heard some of the words that I've been waiting to hear for my entire life.
Perfectly Polished
Part of our 'family tradition' is to appear perfect, polished, and in control of every situation.  You know the deal… put on those perfect Christian smiles, polish those halos, shoulders back, chest out, and let God light a perfect rainbow pathway towards haven.
Messy & Imperfect
And as much as we would ALL love for life to work that way, it doesn't.  Life is messy.  Growth is uncomfortable.  And as much as we try to sweep those imperfections away, to pretend that we all get along, and convince others that our tidy outward exteriors are real; I believe God has a hand in helping to bring our imperfections back to the surface.  God designed us to be human and we are here to have a human experience.
I am so incredibly proud of the vulnerability, honesty, strength, and love that my parents brought into this conversation.  I'm also proud that I was able to bring the same.  As I listened back and editing these episodes, I was blown away at how we all showed up. 
Trauma response
For most of my adult life I've beat myself up about how I show up around my family members.  Despite my best intentions there has always been somewhat of an invisible barrier or force field around my family members.  When I'm inside that force field I transform back into the 14-year-old me and start behaving the way I did so many years ago. 
Over the last year I've learned that this is one of my trauma responses.  Because I've never felt safe and secure with my family member's I've always felt the need to allow some of my protective parts to get in the driver's seat and take the wheel.  I'm also learning to see that all of us have been allowing our protective parts to be in control. 
Wearing our masks
As I listened to my parent's experiences, I can see how much we've all hid our authentic self and how we've allowed the manmade politics of religion, structures of control, pain, fear, shame, and many other parts to dim and hide the light of who we are actually designed to be.
Safety & Growth
We're all learning that spiritual growth and love requires us to find ways to create a safe space for each other and to continually find ways to open up and become more vulnerable with each other… that's hard work… uncomfortable work… and the work that we've been asked to do.  This is the work that Jesus modelled for us and asked us to do.
Relationship OVER Religion
As my parents shared, we sometimes seem to completely miss the point and prioritize religion over relationship.  We look at another person and say to them 'I can't be with you if you don't believe exactly the same thing as me.'
That's certainly not who Jesus was/is.  Jesus specifically sought to reach out and include those who were different, those who were cast out, those who were marginalized.  Jesus shared a message of inclusivity and relationship.  Not a message of exclusivity, control, and compliance.  That's what he came to do away with.
Exclusion hurts many
Hearing from my parents helped me to see that many many people have been hurt and excluded from our manmade religious structures.  It's not just LGBTQ2S+ individuals that have been marginalized.  It's also our parents.  My parents.  The politics of religion and our church falsely taught them to believe that they did something wrong to help make me 'this way' and that part of their Christian duty was to help 'fix me' in order to bring me back to God.  They received wrong teaching, hateful teaching.  That teaching created disconnection and caused great harm for many.  This is fear-based deception continues in many spaces today.  This is what I believe we need to stand up and shine light upon.
And like women, people with different skin tones, people living with a disability, people who have gone through a divorce… there's 'no fixing' needed.
Love and acceptance
What we all need is love and acceptance.  All of us.  It is that simple… and yet simple doesn't mean easy.
This is the work we all need to do.  And this work happens one thought, one breath, one word, one hour, one day at a time.  This is the work that happens when we stand up for another human when we see that they are being treated less than for WHO they have been created to be.
Solving homophobia in the church
This is how we solve homophobia, racism, misogyny, anti-Semitism.  We solve hate by breaking down binary barriers, inviting others in, and finding our humanity through their eyes.  This is love.  And every single one of us has everything we need to do this, and to be this, right now.
A HUGE thank you to my parents for opening up and joining me for this conversation.  I almost didn't ask you because I assumed your answer would be no.  I'm glad I didn't listen to that fearful voice.  Thank you for vulnerability, your courage, your support, and for your love.  There have been a handful of times where I've felt your love and support for WHO I am as a person and this is one of them.  Thank you for seeing me, for loving me, and for living together with me in our world of grey.
Here are some of the references my parents shared during our conversation:
Cross in the Closet – Timothy Kurek
For the Bible Tells Me So – Daniel Karslake
Boy Erased – with Lucas Hedges, Nicole Kidman, Russell Crowe
And thank you to all of you who have been listening along, sharing your thoughts, opinions, and challenges with me as each of you learn to navigate, live, grow, and thrive within our many shades of grey.  I'd like to invite each of you back in two weeks' time for the last episode of S01 of This Little Light Of Mine. 
Final episode of Season 1
In my final story episode of the season, I come full circle and I talk about some of uncomfortable events in my professional, personal, and spiritual life that helped me to hit bottom and break open so that I could finally start to see and to remember the light inside of me that has always been shining bright.
Until then. Wherever you are on this journey, know that you are loved unconditionally by God who made you exactly as you are.
You are created for spiritual growth that embraces your full humanity.  You are designed to learn, grow, thrive and evolve, even if that process causes you some awkward and uncomfortable growing pains.
You are loved.