Not Defining - with Mark & Vic from @notdefining
Hello and welcome to Episode 25 of This Little Light Of Mine.  My name is James Powell and I'm glad that you're able to join me for today's interview episode, 'Not defining'.
On today's episode I'm joined with orientation advocate Mark Smith and his wife Victoria.  Mark runs a support site on IG,  called @notdefining, for anyone struggling with their orientation.  He has an expanded heart and focus on humans who may be questioning, undefined, changing, Bi+, or fluid.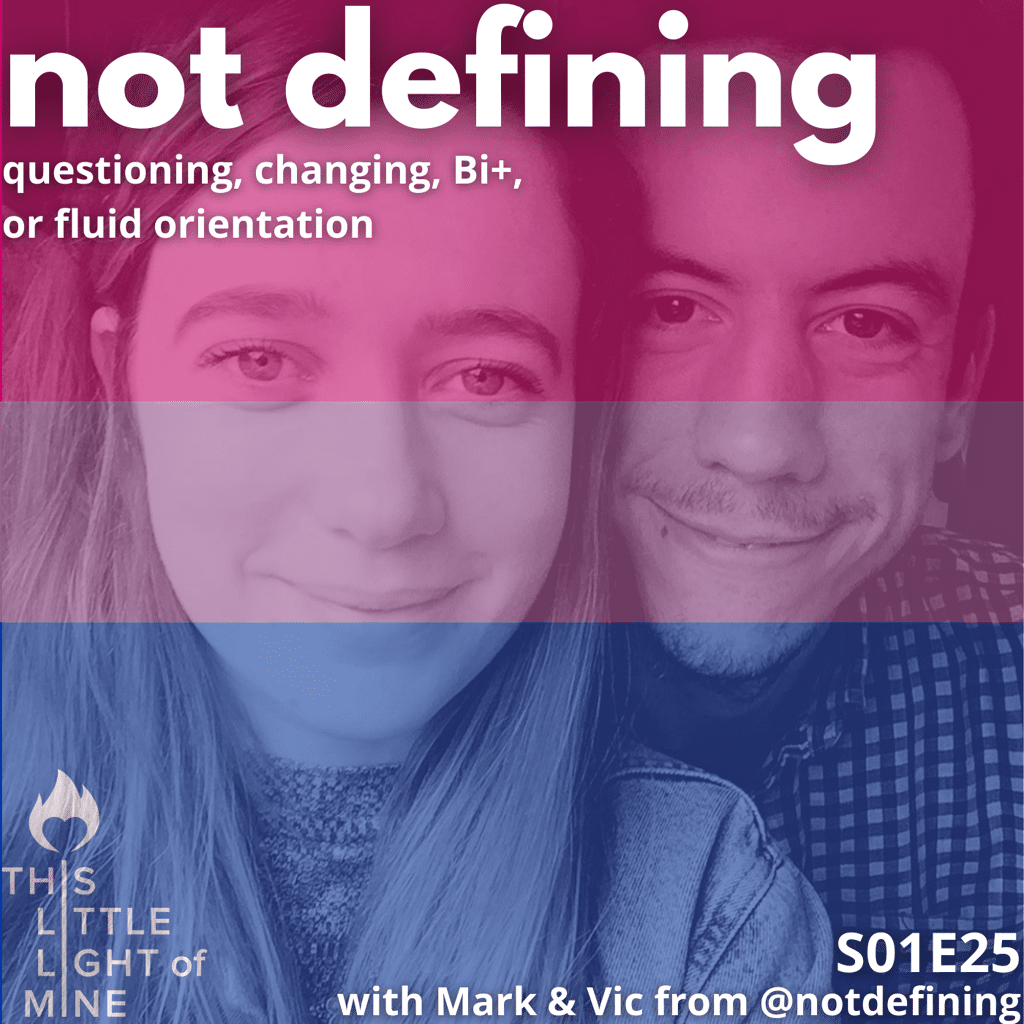 Before we jump into our conversation with Mark and Vic let's pause, for a few minutes to reflect on the topic of orientation.  How exactly do you define a person's orientation?  How do you define your own orientation?
Is orientation static?  Does it change over time?  Is it fluid? Is your specific orientation defined and spelled out in the Bible?  Does your orientation automatically indicate who you're having sex with?
What about the term bisexuality?  What comes up for you around this term?  What thoughts, stories or preconceived notions do you have around someone who might identify as bisexual?
Myth, biphobia, or both?
Have you ever thought or heard things like 'bisexual men don't actually exist, they're just too afraid to admit that they're actually gay'?  or what about the stereotype that a bisexual woman has sexual relationships with men when she's 'stable' but shifts to 'women' when she's 'out of control'?  Or maybe you believe the myth that someone can't actually be bisexual if they are in a relationship with someone of the opposite gender.
With some of your own perceptions top of mind, let's hop into our interview with Mark and Vic and continue this conversation called 'Not defining'.
Wow, did you learn as much as I did from Mark and Vic?
Mark, mentioned that the B in LGB accounts for 52% of our diverse community.  I did some homework and Mark is bang on.   GLAAD did a study back in 2016 called 'Invisible Majority' that shows that our bisexual friends make up the majority of the LGB community. 
I also learned that our bisexual friends:
Are more likely to be parents
Are more likely to be BIPOC
40% of high school students seriously considered attempting suicide
33% have attempted suicide
Bisexual men and women face a much higher percentage of intimate partner violence than their heterosexual or homosexual peers.
The numbers showed me how underrepresented this part of our community really is.
They need help too!  They need to be seen.  Do any of these numbers surprise you?
What I love most about what Vic and Mark shared about bisexuality has nothing to do with these numbers.  The helped me understand that bisexuality really doesn't have anything to do with sexual orientation, gender, or sex.  Yes, these elements are part of the equation, but they don't define it.
Vic and Mark put a big spotlight on how our human need to DEFINE, to sort, to judge, and to label.  That takes our focus away from where our focus should actually be.
Mark and Vic formed and defined their relationship around honesty.  They took the risk to be vulnerable with each other to share who we really are. 
Honesty, vulnerability, connection, and love – these are what we need if we want to define relationships.
When Mark talked about Vic and shared 'being with someone who loves you and teaches you to love you.' WOW, what a healing and mind-blowing concept for me to sit with.
Every single individual and every single relationship are individual and unique. As much as DEFINING makes us comfortable and perhaps 'safe' but this perceived safety comes at a cost. SIN of certainty/dogma/partisan beliefs/stereotypes.  It also forms the basis of racism and hate.  Just because something may work a certain way for the majority of people doesn't mean that it works that way for ALL people.
The more that you can show the world your uniqueness, the more you can show the world how innately beautiful you are… the more opportunity you'll have to find what you're looking for. Because people will start to see YOU.  They won't see the mask that you're putting on.  They will see YOU
There is a vacuum of LGBTQ2S+ mentors and people that we can look up too. Our previous generation hand their hands full fighting for the right to live, work and marry.  But our mentors are coming out of the closet NOW, mentors like Mark and Vic.   Real humans, sharing their story, sharing their journey, and sharing their heart.
Thank you to Mark and Vic for being so open, so vulnerable, and for sharing your love with us.  Thank you for leading by example and for creating a safe space for people to explore and giving permission not to define. 
Are you putting yourself into a box you don't need to be in?
What about you?  Have you been putting any part of yourself into a box?  Have you been fighting to define something that may not need to be define?
You don't need to define, you don't need to put yourself into a box, and you don't need stereotypes when you are loved unconditionally.
You are unconditionally loved
You are loved unconditionally by God who made you exactly as you are.
You are created for spiritual growth that embraces your full humanity.  You are designed to learn, grow, thrive and evolve.
You, your growth, and your relationships don't have to look like anyone else, in fact, it probably shouldn't because you were designed as a unique and Divinely inspired person.
We need all of you
Our world needs to see, hear and known your unique personhood.  We don't need you to define.  We need you to be you.
You are loved.