Honey, I think I'm a homosexual - with Dr. Mike Rosebush
Hello and welcome to This Little Light of Mine, my name is James Powell and I'm so glad that you were able to join me for our first interview episode of season two.
One of the questions that I hate to be asked is 'name some of your favorite queer role models'. My mind starts to chug and I race through a bunch of gay celebrities, athletes, playrights and authors but if I'm really honest I wouldn't consider them role models. I'm sad and a little embarrassed to admit it but my list of queer role models comes up rather short and that makes me sad.
I've had many conversations with queer friends where we talked about the lack of queer role models, mentors, elders, or queer uncles that we could connect, converse, and learn from. During these conversations we would lament and talk about how our lives may have benefitted if we were in community or even contact with the generations of queer individuals who paved the way for our freedoms.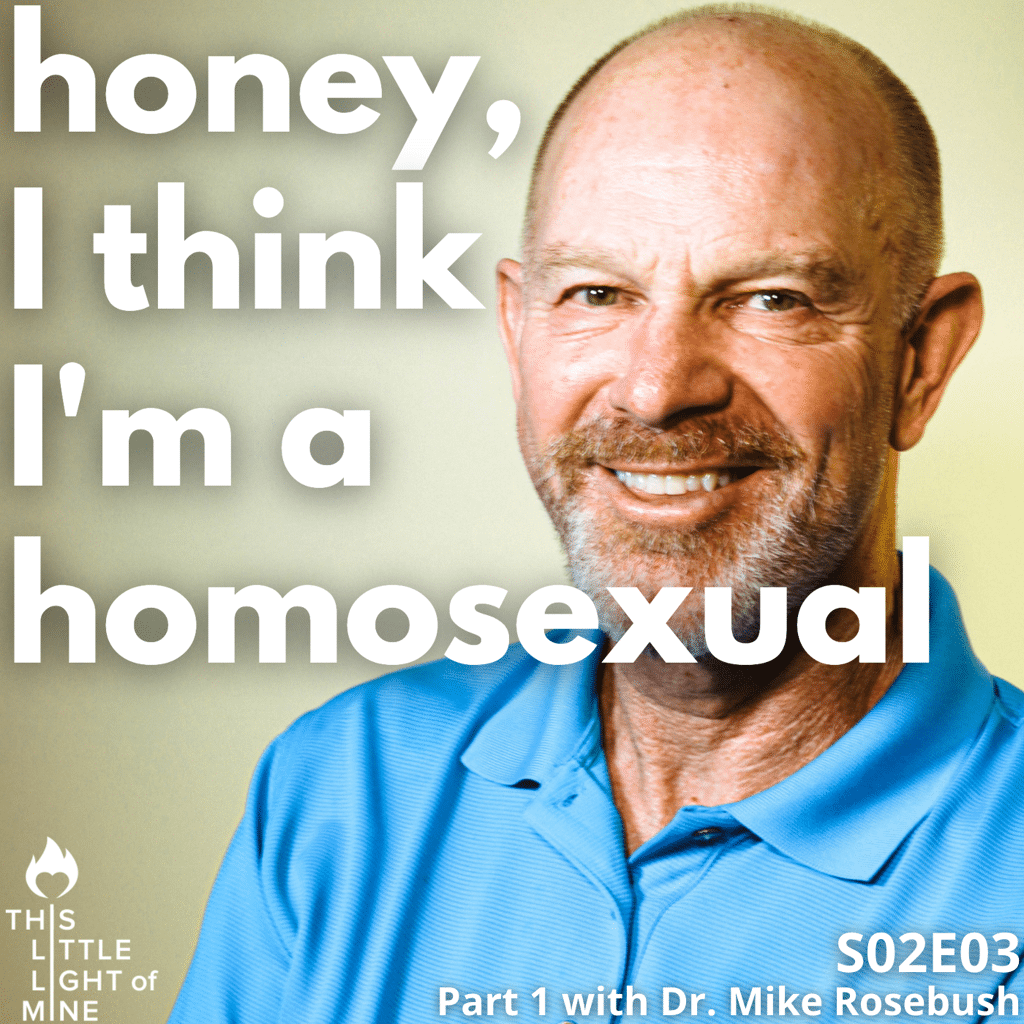 In today's interview episode I'm joined by Dr. Mike Rosebush who describes himself as somewhat of a gay Christian Yoda. In part one of my interview with Mike he shares the first part of his wild journey of his 'most unusual gay Christian Life'.
Dr. Rosebush is a former US Air Force Fighter pilot, former Focus On The Family President, and former Director of Professional Counselling at Exodus (yup, the disgraced reparative therapy company).
Mike will share his experiences and learnings when he came out while in the Air Force, came out while a VP at Focus On The Family, and boldly share the truth that 'no one ever changes their sexual orientation' while working for Exodus.
And with that formal introduction, here's the first part of my interview with Dr. Mike Rosebush.
Come back in two week's time where Mike will share about what it was like to come out while working as a Vice President at Focus on the Family, becoming America's first phone therapist for gay men, outing himself AGAIN at one of America's largest ex-gay conferences, how he was forced BACK into the closet, and how nearly losing his life helped him to come out and fully embrace the life that God intended him to live.
So what about you? Do you have queer role models in your life? How do you connect with the generations of queer humans who have paved the paths for us today? And if you're like me and your list comes up kind of short… what are some of the conversations, questions, and advice you would want to chat about if you could sit down with your very own gay Yoda?
Thank you again for being with us today and before I go I want to remind you.
You are loved unconditionally by God who made you exactly as you are.⁠ ⁠ You, your heart, your mind, your body, your spirit, your gender expression, your sexuality and the way you love, are created perfectly in God's image.⁠ ⁠
You were created on purpose and your purpose is to fully love yourself, connect deeply with others and share your love with the rest of the world
You matter, you are needed, you are wanted, and you are loved.
You are loved.