I was wrong - Interview with Rev Michael Coren
Hello and welcome to Episode 12 of This Little Light Of Mine.  My name is James Powell and I'm glad that you're able to join me for today's episode, 'I was wrong'.
In today's episode I'm joined with best-selling author, columnist, Anglican cleric and former nightly television and radio host, Michael Coren.  Michael and I will be talking about his book Epiphany and "what went wrong" on his journey from being the posterboy of Catholic conservatism towards his profound spiritual and personal change of heart towards the queer community.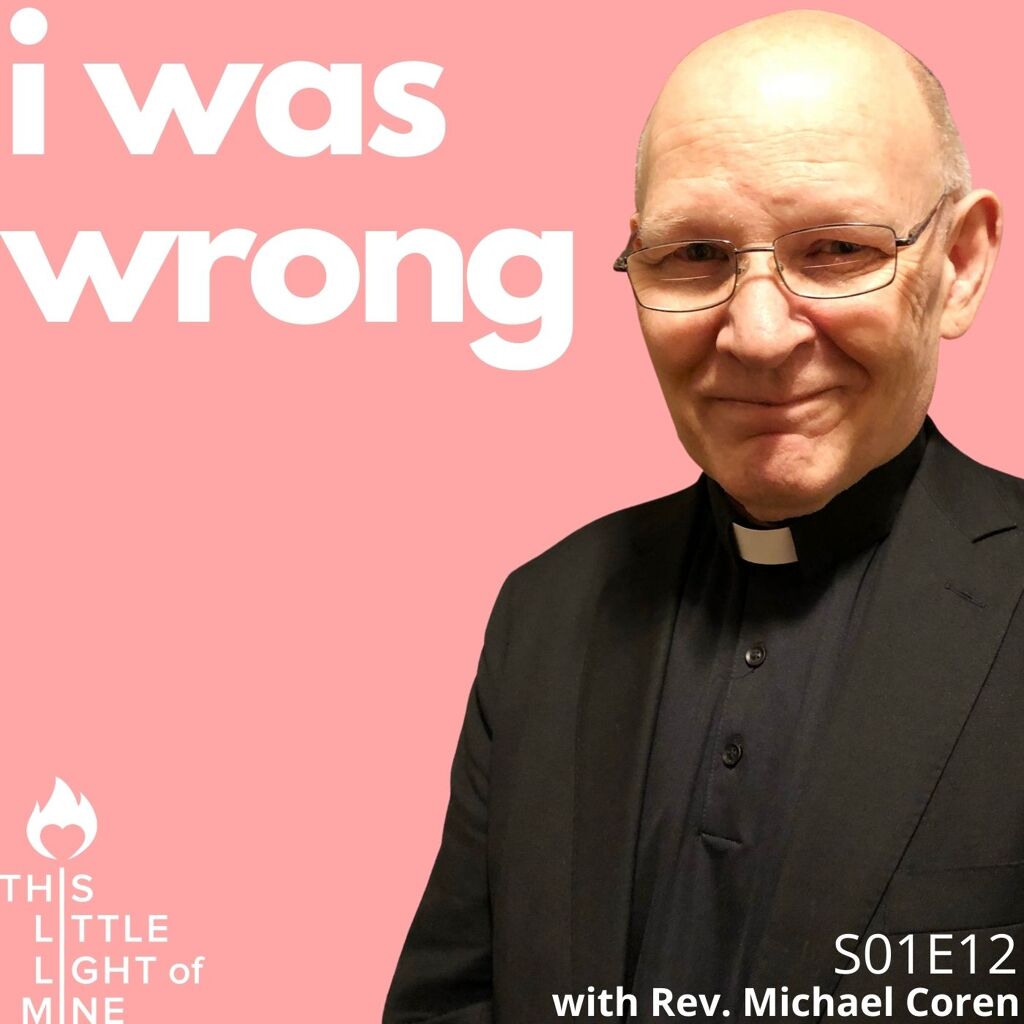 Michael is a Christian author and broadcaster who hosted the night show 'The Arena' for four years on Sun News, the Canadian version Fox News in the United States (let that sink in for a minute). Michael was well known for opposing same – sex marriage and was, in Canada, arguably the institution's most high – profile opponent, came to be not only a passionate defender of marriage equality but also a champion of gay rights and an outspoken campaigner for full acceptance of gay people into the Christian church .  I would highly encourage you to follow Michael on Twitter @MichaelCoren to experience Michael's social commentary, intellect and homour.
Before we jump into my conversation with Michael I want to thank everyone who left comments for This Little Light Of Mine on Apple Podcasts and IGTV as part of our contest to win Michael's book 'Epiphany'. 
Our winner is Kristen VH Middleton from Apple Podcasts in the US who writes:
Groundbreaking podcast – Through telling his own story and healing himself, James gets to the root and heart of what needs to change in Christianity today: loving our children exactly as they are, not who we think they should be. Highly recommend this podcast.
Thank you Kristen for all your encouragement and love, drop me a DM @MyLightShinesBright on Instagram and I can get your details to send you your own copy of Michael's book Epiphany.
And without further ado, here's my conversation with Michael Coren. 
Links from Michael's conversation:
What came up for you as you listened to some of Michael's story?  Anger, surprise, disbelief, relief, hope?
I had a wide range of emotions spending time with Michael and getting into his book Epiphany.
Pain of coming out
I was moved as Michael talked about the pain of his 'coming out' experience; the abuse, accusations, death threats and loss of livelihood and his personal realization that his experience didn't come close to the experience of exclusion , marginalization , persecution , oppression , and violence inflicted on so many queer people.
I was encouraged to see another human wrestle with his faith and publicly acknowledge that the bedrock of faith has nothing to do with certainty.
Michael changed on this issue, in his words,
"not in spite of being a Christian but precisely because I am a Christian, and my faith has deepened and broadened as I have come to appreciate the need for a new understanding of same-sex love and gay's relationships within the Christian church and the Christian world."
Demonic possession?
I was triggered in his book when an opponent suggested " I have to wonder if you , Michael Coren might be suffering from what exorcists call demonic obsession . These are cases in which God permits the devil to torture a person with repetitive thoughts that the person cannot control."  This brought up many memories of my childhood where it was suggested that "you disagreeing with me MUST be the devil at work"… as a KID you believe this garbage, you don't understand that it's human manipulation and a cowards attempt to control, and sadly parts of me HELD onto those words.
I applauded Michael's insight when he explained the church's obsession over a certain homosexual sex act.   I have come to see that when it comes to the church and homosexuality the focus is on puritanical fear, misogyny and partisan politics instead of where it needs to be; humanity, relationship and love.
Hope for change
And Michael's story gave me hope.  Change in our world doesn't happen from the oppressed or the marginalised speaking up or demanding action.  Yes, that may get a conversation started but real change, foundational change, that comes from allies like Michael who have the ability to struggle with their beliefs, question their beliefs and then take bold action.  Change comes from the amplification and action of the majority.
A huge thank again to Michael Coren for joining us today and for helping set a new course forward with three simple words "I was wrong".
Certainty is a sin?
What about you?  As you listen to Michael's words today, as you look around our world, our political landscape or the relationships in your life; could you be wrong about any of your beliefs?  Or are you 100% certain?  I'm starting to wonder if it's that 'certainty' that might actually be the sin we should all really be afraid of.
Thank you so much for joining us today and I look forward to connecting with you in two-weeks' time for our next story episode called 'Gospel Gaslighting' where I dive into lessons of hyper-vigilant love I was taught while growing up in an evangelical church.
Thank you again for being with us today and before I go I want to remind you.
Your story is important.  You were designed with a powerful voice, no matter who you are.  We need to hear what you have to say.  You matter, you are needed, you are wanted, and you are loved.