Deconstruction - with Chad Rollo
Hello and welcome to Episode 16 of This Little Light Of Mine.  My name is James Powell and I'm glad that you're able to join me for today's episode, 'Deconstruction'.
I'm super excited to share today's episode with you.  Many have not heard of my guest before today and that's what makes this episode so special.  Chad Rollo is a real, living, breathing, one-of-a-kind, extremely elusive, growing, married and loving gay Christian.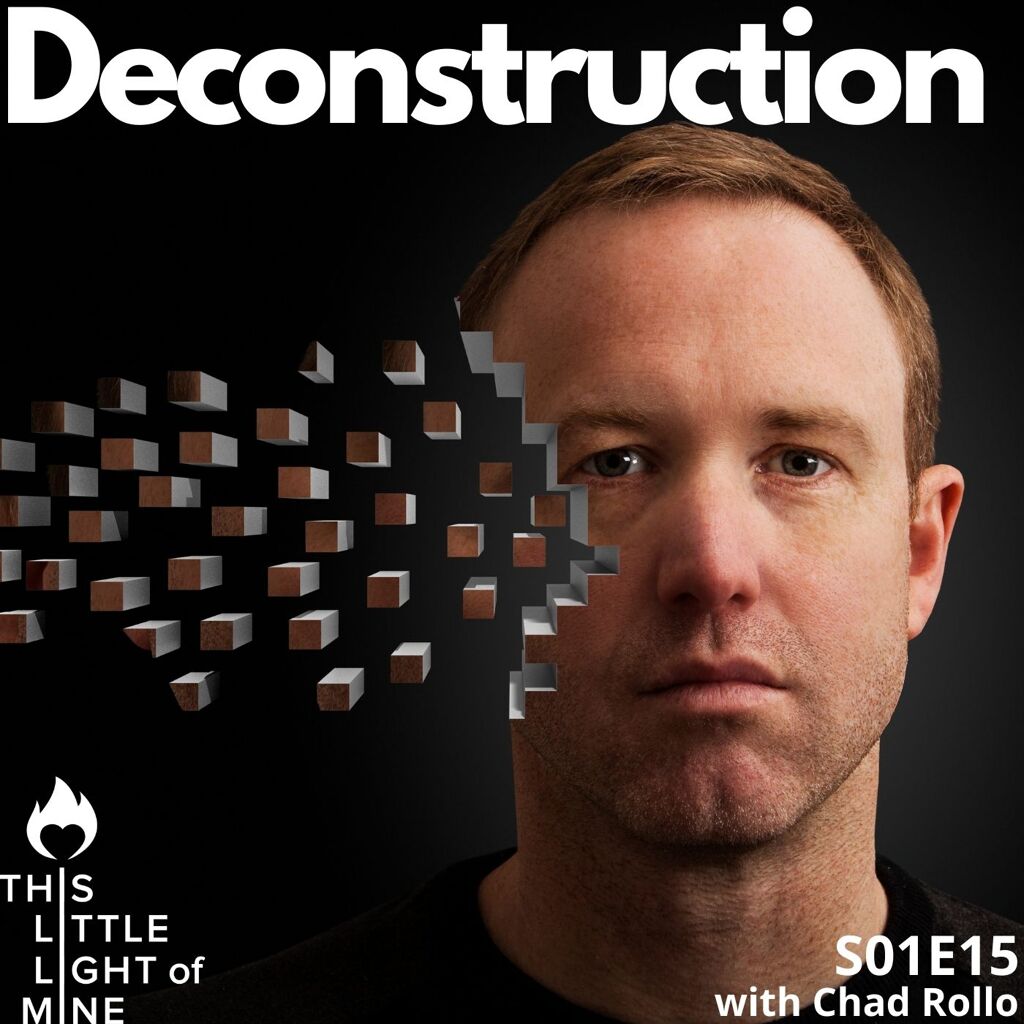 Growing up I believed that the words GAY + CHRISTIAN were in compatible, a paradox and oxymoron.  Growing up, everything that I experienced, and that I was taught, was to believe that the words GAY + CHRISTIAN were completely contradictory.  Those two words went against common sense, biblical teaching and human nature… and yet… like 'less is more', 'deafening silence', 'seriously funny' and my favorite 'jumbo shrimp'… Gay Christian's and Queer People of Faith are very real.
Before we hop into today's conversation, I want to provide a bit of a background on Chad. 
Chad currently lives in Windsor, Ontario (across the border from Detroit) with his husband Bill and three cats.  Chad is an IT Consultant and teaches part time at a local College.
He was adopted into a Christian family at the age of 7 and grew up in a Reformed Baptist Church in a very small town. 
Chad came out to friends and family at 24 and later got married to his husband Bill in September 2017.  Unfortunately, this also meant that he lost his relationship with his adopted mother, older sister, and younger brother because of his sexual orientation and his relationship with Bill.   
Coming from a strict conservative faith, Chad spent years deconstructing his faith.  He was blessed to meet different people and organizations to help and guide him along the way.  Chad's faith has always been extremely important to him and being able to deconstruct and re-evaluate what aspects of his faith are important; he can now say with 100% certainty that he is more at peace than he has ever been. 
Chad is thankful for his journey and his new relationship with God.  He's thankful for the people in his life that have been there to help him, to provide a shoulder to cry on, and to help him process. 
And with that, here's my conversation with Chad Rollo.
A huge shout out and massive thank you to Chad for sharing some of his journey with us today.  One of the things that I would have benefited from immensely as that young, scared, closeted kid would have been a similar message of hope and strength from someone who was on the path ahead of me.  Someone like Chad.
Can I be LGBTQIA and Christian?
One of the most common questions that I regularly receive on Instagram @MyLightShinesBright is 'I go to a non-affirming church' or 'my faith-based family doesn't accept me', 'do you believe that being gay/transgender/bisexual sin?' This first question is usually followed up with 'how do I reconcile my sexuality with my faith?'
Growing up so deeply entrenched in an evangelical church-based community and family I know how painful and important these questions can be.  I desperately wanted to wake up one day and to magically have the absolute affirmation and unconditional love, of my church and from my family, without having any conflict and without having to make any changes to the beliefs that I was raised to believe were absolute truth for absolutely everyone… with no exceptions or shades of grey.
Screw this
At many times my sexuality and faith seemed to be oceans apart, and honestly, there were times when I said, 'screw this!  I've been hurt too many times.  I've fallen for the 'all are welcome' ploys for the last time.  The continuous gaslighting of being told that people were coming from 'a place of love' when really, they were projecting their own fears and hate towards how God created me, and towards my I AMness.'  This abuse, and it is abuse, was too much.
It's okay to walk away
I want to affirm and honour those that need to walk away.  I understand that for some you need to love and honour your Knowing and Truth.  I get that the abuse, the trauma and the appropriation of God's name to hate instead of love is not healthy and continues to inflict pain.  Trust yourself, be kind and gentle with yourself, do whatever you need to create a space of psychological, mental, emotional and spiritual safety.  This needs to come first.  Know that I see you.
Going inside
And what I am now learning, at my current space of healing, is that this pain, it was a call inward.  I needed to go inside to hear and Know God.  It was a call to deconstruct some of the lies, fears, false certainties and mistranslations that I was taught by man.  I needed to deconstruct so that I could remember God's truth for my life.
Deconstruction is not destruction
What I now know, I didn't need to turn my back on my faith.  I needed to tune into my faith and turn up the dial in my connection with God.  That is what deconstruction is about.  Deconstruction isn't a process of destruction… it's a process of attunement, remembering and transformational spiritual growth.
Chad's faith looks different than it did years ago, but he wouldn't change a thing.  The pain of losing his family still exists and is very real, but Chad knows that God has blessed him with Bill and his family, and a community that loves him for exactly who he is.  
Peace and acceptance
Chad probably would not have found this place of peace and acceptance if he didn't love and trust himself enough AND if he didn't love and trust God enough to be led through a phase of deconstruction.
And just like Chad shared with me, If he had to go through it all again, he would!
And as painful as my process of recovery and deconstruction can be, so would I.  There is so much hope, strength and love waiting to be remembered.
Will you offer a hand of hope?
Will you be like Chad?  How can you share your journey and your message of love, strength and hope with someone who might need some help?
We grow stronger and we heal together when we use our voices to share our stories and experiences… especially the painful ones.
Thank you so much for joining us today and I look forward to connecting with you in two-weeks' time for our next story episode where I go deep into a dark and hidden underground in fearful quest for love. 
Thank you again for being with us today and before I go I want to remind you.
Your story is important.  You were designed with a powerful voice.  We need to hear what you have to say. 
Your story of hope and strength could make the difference in the life of someone struggling right now.
You matter, you are needed, you are wanted, and you are loved.