The shift - with Colby Martin
Hello and welcome to Episode 14 of This Little Light Of Mine.  My name is James Powell and I'm glad that you're able to join me for today's episode, 'The shift'.
In today's episode I'm joined by best-selling author, podcaster, and PROGRESSIVE pastor Colby Martin.  Colby is passionate about carving out a space within Christianity that includes: a whole-heartedly affirming posture toward LGBTQ individuals, a broader acceptance of other spiritual practices and religious perspectives, an agreeableness toward science, and a commitment to always growing, transforming, and trusting that the best days are yet to come.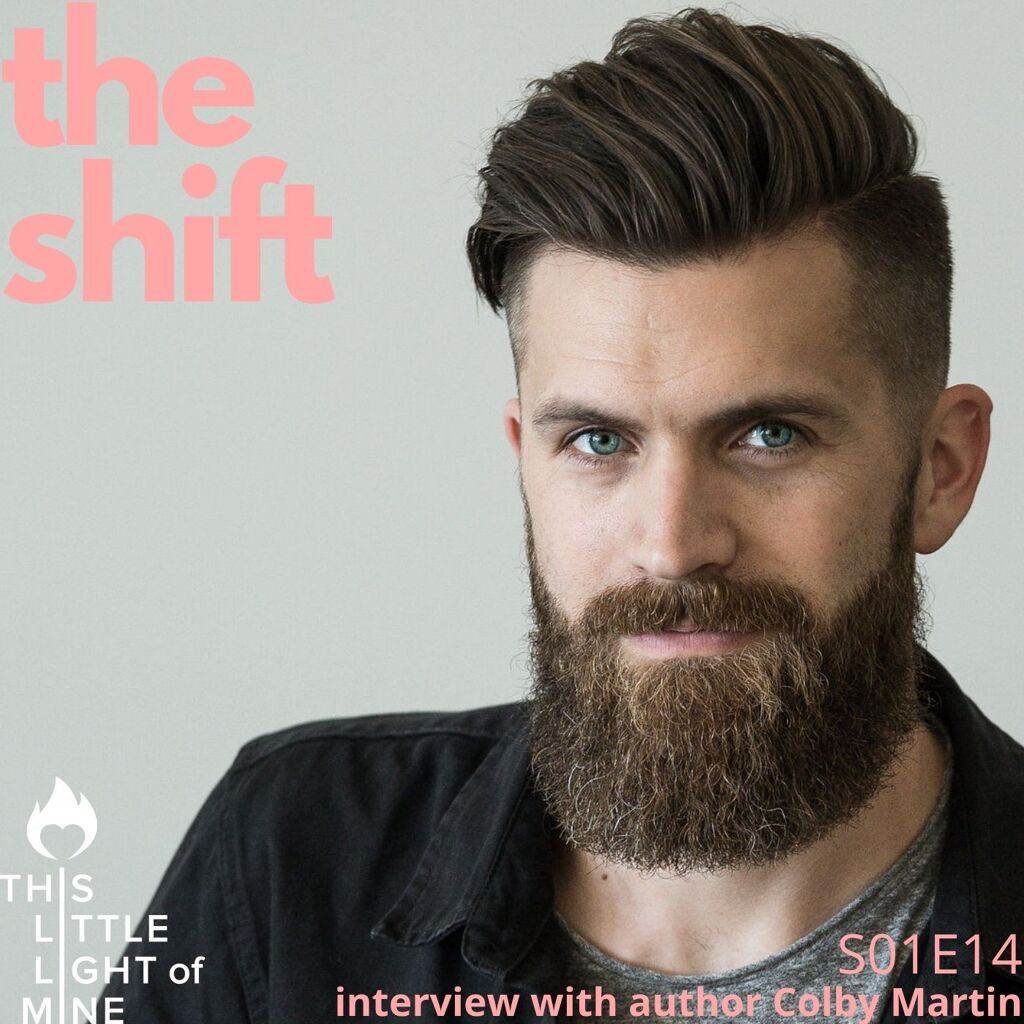 Colby is one of leading voices of the Progressive Christian movement, he made me cry with his vision for the church in his first book UnClobber – Rethinking our Misuse of the Bible on Homosexuality and introduce me to the incredible voices of Brian McLaren and Glennon Doyle.  Colby will be talking about his newly released book The Shift: Surviving and Thriving after Moving from Conservative to Progressive Christianity
If you don't already follow @ColbyMartin on IG you're going to want to connect with him.  In addition to everything Colby has to SAY he's also an incredible mixologist, cocktologist (keep it clean guys) and coffee connoisseur… he can make a mean drink.
Before we jump into my conversation with Colby, I want to thank everyone who left comments for This Little Light Of Mine on Apple Podcasts and IGTV as part of our contest to win Colby's book 'The Shift'. 
Our contest continues for the next two weeks and we will announce our winner on EP15… so keep those comments coming for your chance to win.
And now, without further ado, here's my conversation with Colby Martin.
Wow, am I ever glad there are guys like Colby Martin around and that Colby continues to use his voice in such a vulnerable and powerful way.
I wish that I had a pastor like Colby growing up.  His approach is the antithesis to the gaslighting we talked about in our last episode.
Bring on the questions
For those moving from a conservative to progressive sense of Christianity, Colby talks of our need to welcome doubt, welcome questioning, welcome vulnerability.
This journey is not about pretending that any human has all the answers or that any of the answers can fit neatly into one of two boxes.
I also really appreciate Colby, his story and his approach because he acknowledges (and has experienced) some of the pain, loss, anger and loneliness that the journey forward has… these feelings and all of our feelings are valid and are part of our healing process so that we can grow forward into the full expression of who we were created to be.  As much as we might want to (and as much as I have tried), we can't skip over this part.
Divine permission slip
And Colby's message and reminder of our divine permission slip to 'shake the dust of our feet' is an incredibly import point that I want to underscore.  If people cannot accept you as you are and as you were created to be… without any asterisks, buts or conditions it is the recommended path of Jesus to walk away.
For years, and if I'm 100% honest, there is still a part of me that believes in the healing fantasy I have held onto inside of my head.  That fantasy of a happily ever after, where the church that I grew up in suddenly acknowledges the error in their toxic theology, I get a crying phone call from my old pastor saying "What have we done?  We were wrong.", somehow me and my entire family are transported back 30 years and we can all grow up in this magically fully affirming evangelical church.
Healing fantasy
But that is a fantasy, that's not real.  And I've held onto this fantasy, instead of acknowledging my pain, my grief and loss of growing up in a toxic church environment and suffering the devasting effects of not being protected by the people who were supposed to be there for me, no matter what.
So many of us hold onto this fantasy.  We've learned how to smile and pretend everything is okay.  We've learned how to pretend not to hear things or see things while we lie to ourselves that we are taking the high road, putting family first or being bridge builders.
Fantasies can keep us stuck
What I am learning is that these are the fantasies and thoughts that were keeping me stuck.  These were the lies that I was feeding myself until I could get to a place of recovery, safety and healing I am in today.
As I start to fully acknowledge all of my feelings, experiences, my questions and my doubt… this is where I start to make My Shift.
What came up for you?
What came up for you as you listened to this conversation with Colby?  What questions did it stir inside of you?  What anger might have come up?  What new hope or insight might have been born?
A huge thank again to Colby Martin for joining us today and for helping set a new course of bringing more love into our world with his new book 'The Shift'.  
Thank you so much for joining us today and I look forward to connecting with you in two-weeks' time for our next story episode called 'PUREity shame' where I share what it was like growing up in the 90's evangelical church culture and share about one of my worst nightmares coming to life.
Thank you again for being with us today and before I go I want to remind you.
Your story is important.  You were designed with a powerful voice.  We need to hear what you have to say. 
Your feelings and your experiences are valid.  You have the right to feel safe and be safe.
You matter, you are needed, you are wanted, and you are loved.